We are excited to announce an upcoming charity event with the
Reddit
servers!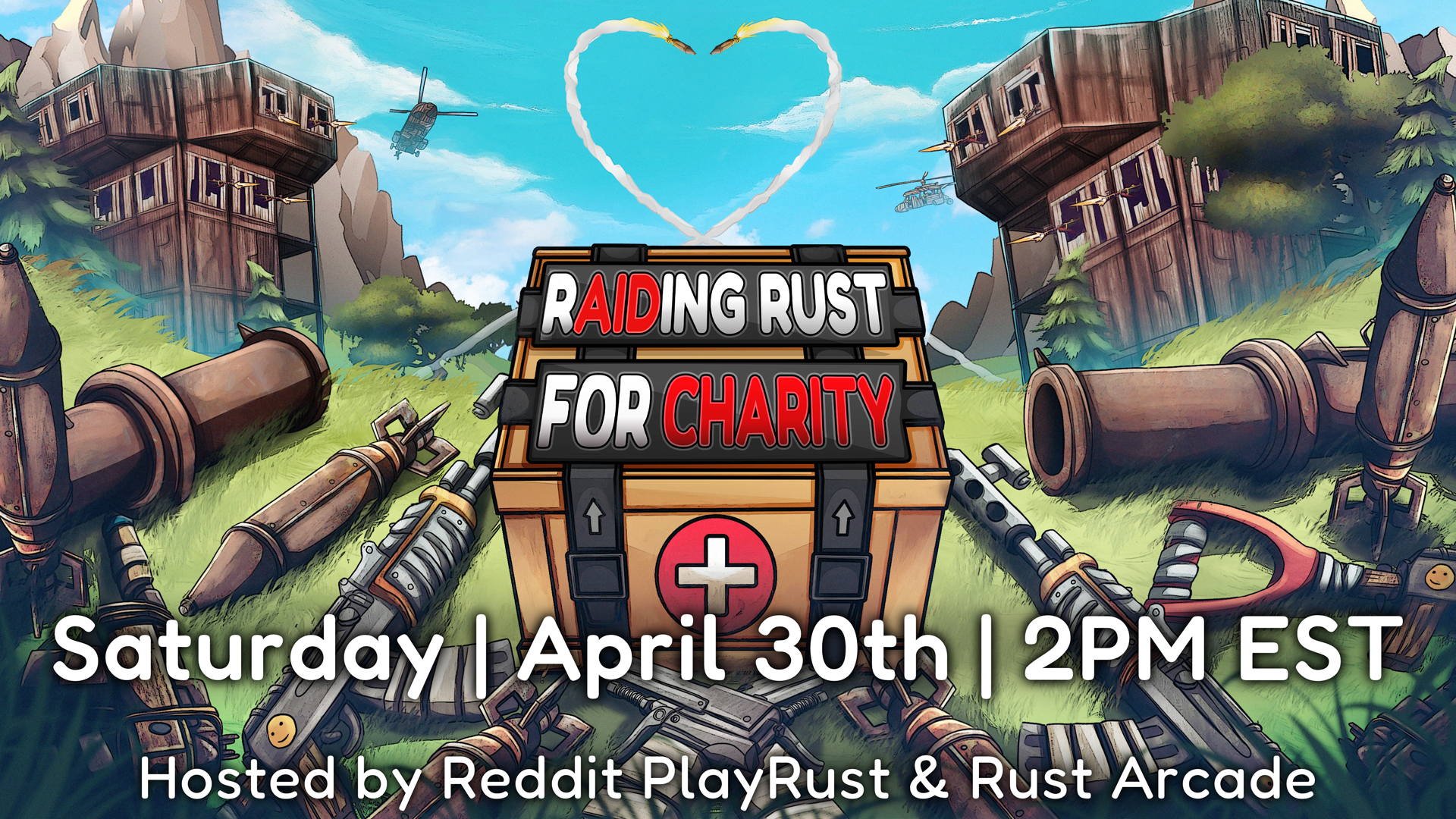 On
Saturday April 30th at 2:00PM EST
, the Reddit PlayRust & Rust Arcade Team will be hosting their first ever charity event for Youth Mental Health.
You can read more about AIM and their goal of addressing the increase of mental health issues in our youth at
https://aimymh.org/
. Our AIM is to bring as much attention to this cause as possible as it is a growing issue in our world today.
The event is an 18 team "Bed Wars" tournament, inspired from Minecraft, which will consist of all your favorite content creators in Rust today! The event will be casted by
Picco
,
CoconutB
, while Kaz & Kaileyca will be casting it from
PlayRust Reddit's own Twitch channel
.
How it works:
Players will spawn into the match and are given 5 minutes to build a basic base before all the mayhem beings. After that, the PVP begins and you will start upgrading your gear. There will be a 20 minute grace period where you can not be raided. You will then have 50 minutes where you will be able to raid the other teams & destroy their bases. At the end of this stage, the remaining teams & their bases will all be teleported to the arena for a final battle. There's a short
tutorial video
on how this game mode works.
Teams are as follows:
Team Enardo (lucas & DyannaTV)
Team Blooprint (Disfigure & Frost)
Team Posty (Deathwingua & Albin)
Team Taunted (Tacularr & Hardstuck)
Team Winndygaming (Bluelol & TOP)
Team Nora (21_Vivid and EdRust_)
Team Blizzard (JordanPants & Royal Viking)
Team Wugti (Moondog_tv & Rusty23)
Team Captain Myko (Funji & DotFunker)
Team Jewer ( LaPaizle & Jiffy_god)
Team Pablo (Kimchi & Omni)
Team iRisk (Swales & Willjum)
Team Plyushka ( Мейби кексик? & CoJIucTKa)
Team bk_ftw (aspect & OctZhang7)
Team Riqqeloff (Snuffyfluffy & ArkM)
Team Ella (ChipDingle & Rpold)
Team hJune (r00t9r & Trausi)
Team JusJam (BigChase & TommeeGuns)

All proceeds from this event will go directly to AIM via their Tiltify donation page -
https://tiltify.com/@k-ng/raiding-rust-for-charity
. Hope you tune in!