Community Update 41
An art slam dunk.
19 May 2015
The header image is another creative use of the in-game painting system, with painter GeersArt crafting a basketball court out of a few signs. It's remarkably effective. I can't quite get over that the system that allows people to make courts like that can also enable players like Cherokess to make this:

That's his take on David Kassan's "Henry". I thought about making it the main image, but seeing the systems twisted to create a basketball court tickled me.
Art actually happens away from Rust's inner canvas as well. In fact, it's easier and safer to just paint or draw in the real-world, which is what MrStonar did. His 'Old Forest Home' painting is pretty evocative of a dark night in the depths of Rust's forests, and he didn't need to cave in anyone's skull to do it.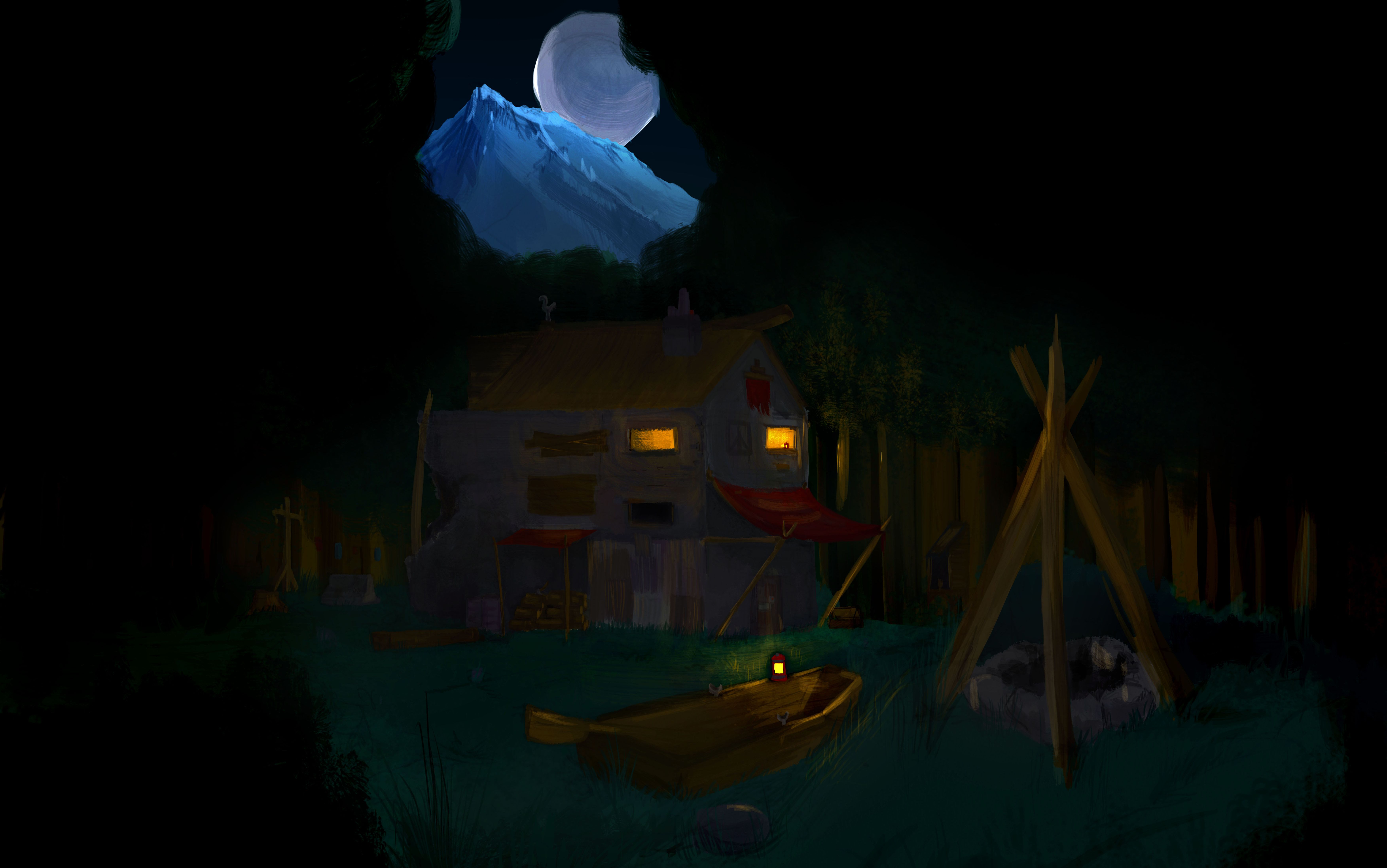 Of course, now I want to see it recreated using the in-game tools.
Let's face it, time away from Rust is time you're probably spending worrying about your base. That's the nature of the game. To help with those moments between Rust games--like when you have to go to the toilet or when you're in hospital for spleen surgery--when you don't know what's happening to your base, there's a new Oxide plug-in: Rusty Sheriff Raid Alert. With this server mod installed, players can be alerted in-game for when they're off breaching another perimeter, and even on their Android phone for those odd moments spent away from your PC, via this app.
Now all I need is an Android app that automatically threatens the intruder with all kinds of revenge, kills them, takes their stuff, and breaks down their walls. That is the Rust way.
I have a problem: all of Vertiigo's videos are worth watching. This one, with Vertiigo trying to work his way into this clan's good graces, is another masterclass in repressed rage and comic timing. But the more I write about him, the more people will know what he's like and not turn their back on him. And if you've watched his previous videos, you know that's when the magic happens. Cowardice mixed with angry Australian opportunism is really funny.
I can't not share this, but I also hope you forget everything you just watched. Remember if you hit yourself on the head an odd number of times, you'll get amnesia.
A little spot of house-keeping. I forgot to include Mike The Vike in last week's round-up of people who make lots of cool stuff about Rust. Mike's Rust playlist is up to Episode 48, and stretches all the way back to Legacy. You can watch the game come together across his vast repository of Let's Plays. Here's the latest, where he meets a newbie and goes on an adventure, and then gets sad over a raid. I like that he's a nice dude, even after all the time he's spent in Rust.
You can sub here.
There's a been a few large, impressive builds pop-up on the servers the past week, and here they are rendered in non-moving image files.
Western Town
My favourite bit of this Deadwood style town found by Angry_Gnome on the playrustpublic server is the guitar scale on the inside of one of the buildings. It's an amazing solution to the helping people make music.
Wolfenstein
Anotherreadit squeezed his first PC game into his favourite one, recreating a Wolfenstein level in a building, and using NPCs, maps, and signs to drop the Nazi-infested dungeon into Rust. The hope is to create a whole map like this. Good luck!
Trench Rustfare
This erosion trench buckballs came across was the perfect shape and size to recreate an army trench that Blackadder would have been proud to escape from. Combining all the barricade sets is really visually striking. It feels like part of the world.
Puzzle Tower
WaystoneDibs got creative with his building, turning what could have been a normal base into a tower that people had to puzzle through. The victors could help themselves to any loot that was in the furnaces at the top of the tower.
Think you're working on something awesome? Tell me all about it. Now's the time to share your art, though I'd ask you to think: does the world really need to see this perfectly painted bumhole? I can assure you, the answer is 'no'.
There's a dedicated forum post, or you can fish for upvotes in the Subreddit. I also shuffle around the the Steam Community, so feel free to show me to things from there. You can follow and respond to Rust on Twitter, and I'm on there as well. We also have a dedicated site for suggestions and bug reporting.
I can't respond to everything, but I read every comment and take it all in.
Mailing List
If you want to follow this project you can sign up to the mailing list.
We'll only update you about this project, we won't spam you about other stuff or sell your email address.